Today I wrote about wireless earphones, which are very useful for remote and telecommuting work these days.
In October 2019, Apple announced the AirPods Pro wireless earphones, a product that has become so popular that there's a two-month wait. The AirPods have been highly praised for their ease of use with noise-canceling features.
In this article, we're going to talk about the hugely popular AirPods Pro and the unmarked AirPods that don't have a "Pro" name, which one should you buy at the first time?
In this article, I'm going to answer the question of what the AirPods are all about, not just in terms of specs, but in terms of the value and user experience they've created.
table of contents
Conclusion. If you're going to buy it, it's definitely unmarked AirPods, not the Pro.
The AirPods Pro is unanimously better when compared in terms of specs. This is because it's a Pro with everything on it.
But let me say, however, with all my experience, life and soul.
If you've never used AirPods or AirPods Pro, and
If you're on the fence about one or the other, you should definitely get the AirPods.
If you keep looking at spec comparisons, you'll miss the most important thing.
Again, it's not a Pro. I'm buying unmarked AirPods.
The reason is quite simple, only one.
The AirPods, not the AirPods Pro, are the product that gives earbuds a "value" they've never had before.
The AirPods Pro is a product that looks like it's got it all figured out, but forgets to put the value that the AirPods were built upon in the first place.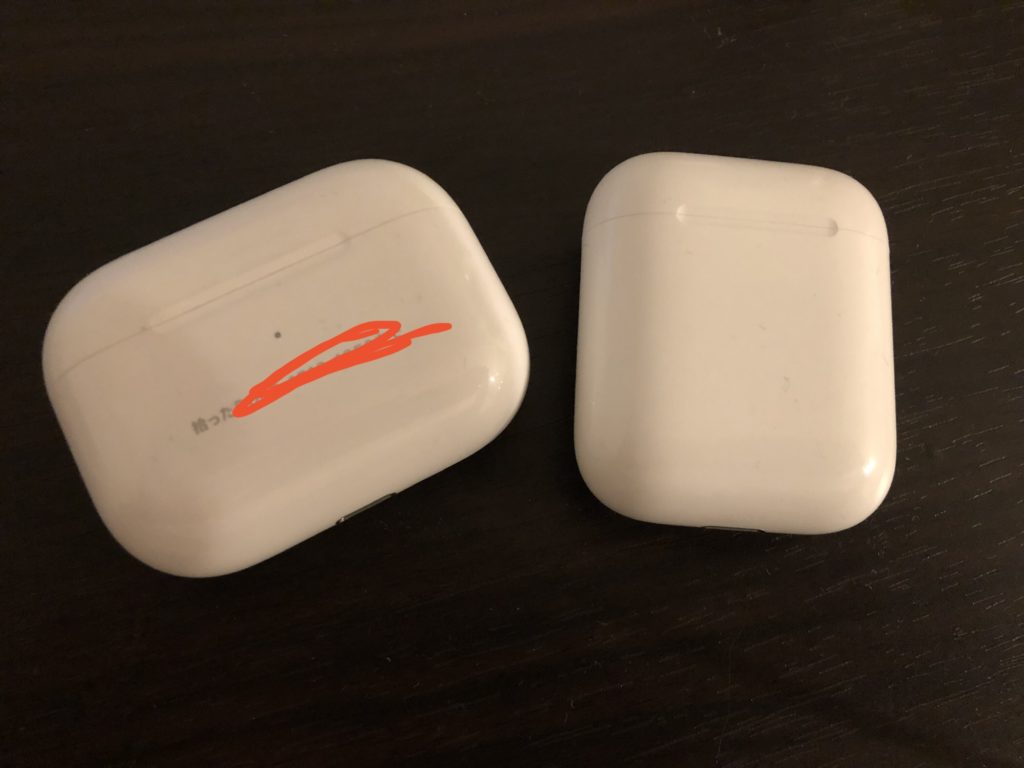 My AirPods Pro and unmarked AirPods; the Pro has a lame engraving that says "090-XXXX-XXXX-XXXX when you pick it up". I've been using both of them, but my chances of success are about 1:4 for Pro:Unmarked.
Actually, it's to my advantage to introduce the Pro
I' be honest with you.
Like other blog sites that showcase AirPods, this one has affiliates posted on it, so it's a win for me to showcase a pricey product in a way that makes you want buy it.
And since the AirPods Pro is better in almost every aspect of the specs, so, it's much easier to write an article saying you should buy the AirPodsPro.
However,  I can't write like that. The AirPods are a better experience for us than the Pro, I believe, because deep down, I believe that the AirPods will give us a better experience.
I'll explain what that means below.
The 1st AirPods were so SHARP
I first got my hands on the AirPods in 2017, and at the time, the most important factor for an earphone product was sound quality. And the higher the sound quality, the more expensive the earphones were.
Of course, a number of earphones were also sold at that time that claimed to be wireless and free from cords. However, they were still very unstable and underdeveloped products with a variety of challenges, such as repeated cutting problems and battery problems.
Despite the bullish price of $159, we've come up with a very challenging products that sounds no different from the regular earbuds that come with the iPhone, in other words, almost all of the price is devoted to "wireless functionality" instead of sound quality. It was the first AirPods.
But SHARPNESS has TURNED to VALUE
The first time I held it in my hands, I was puzzled.At the time I was using SHURE SE535 and BOSE QuietComfort 20 for wired and Sony earphones (connected devices) for wireless.
That's why I couldn't help but wonder if the AirPods – earphones with extremely normal sound quality – were really worth the price.
But when we tried the mysterious AirPods, whose design was even ridiculed as "UDON," the user experience was incredible.
That experience is the overwhelming "ease" of use.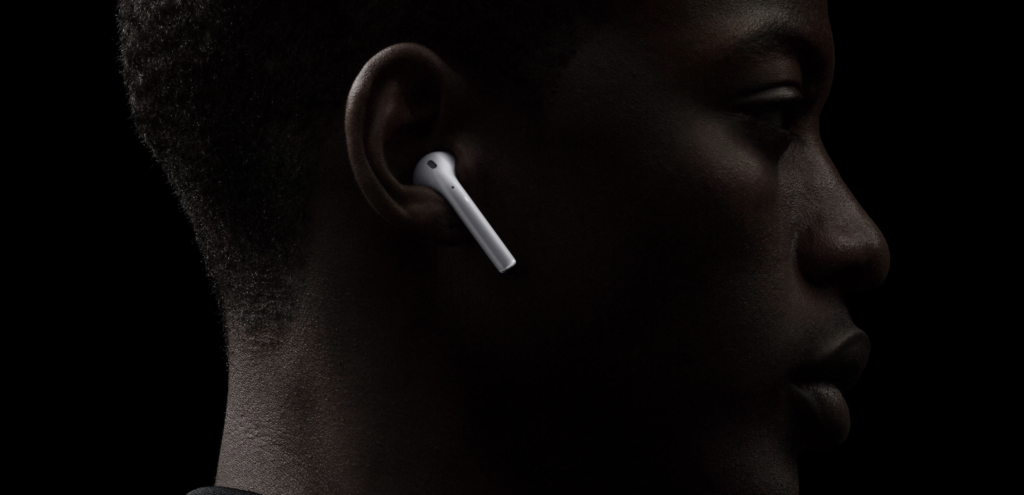 It's so light that you'll forget you're wearing it, and it's a rechargeable case that you can use without worrying about the battery. Smoothness that seamlessly switches to earphones when you wear them.
This was beyond anything I could have imagined. I quickly became a heavy user of AirPods. My music listening style, and even my phone calling style, has completely changed since I started using the AirPods.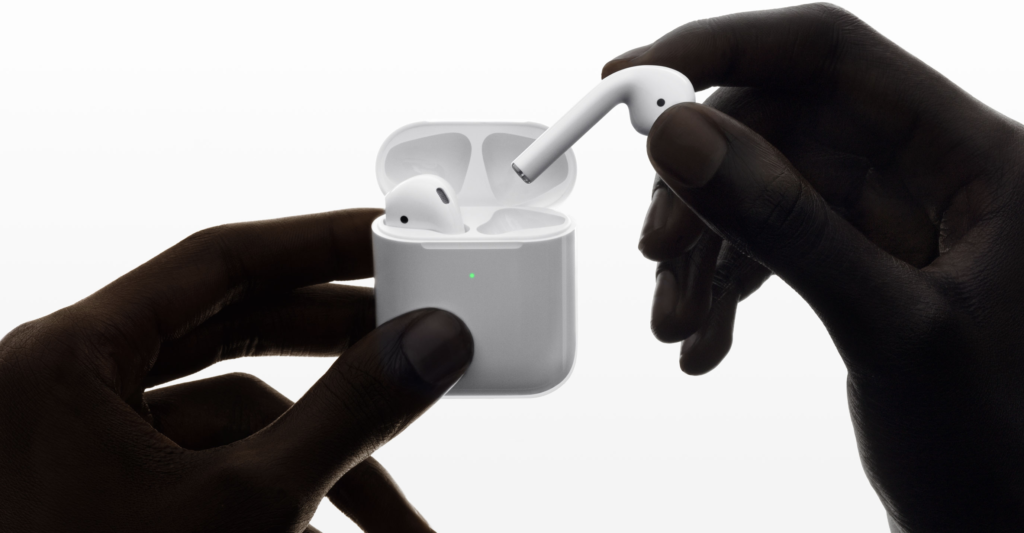 Of course, in terms of sound quality, they can't compete with the high-end wired earphones. However, the user experience showed us the value of "ease" when choosing earphones.
I was keenly aware that this is an ambitious product that strongly reflects Apple's corporate culture of constantly creating new values. Since then, I've been using SHURE and BOSE earphones very infrequently.
And it's the unbranded AirPods that make the most of that convenience and value.
The long-awaited noise cancellation
The first AirPods were a near-finished product in concept. However, if there are any elements that are missing, it's the sound quality and the noise canceling feature that Bose and Sony are known for.
Noise-canceling itself is a very useful feature, so I used to use Bose's QuietComfort® 20 earphones when I wanted to work in a noisy cafe or get on a plane.
With its long-awaited noise-canceling feature, the AirPods Pro looks like a lost cause, but the price to pay for it was too great. It was too big.
The Pro has lost its AirPods' greatest strength
The best thing about the AirPods is that they are so seamless that you forget you're even plugged in, and so light that you forget you're even wearing them.
You can wear it while listening to music, on the phone, or at your desk all the time. The AirPods were such a gadget that you forgot you were even wearing them, as if they were part of your body.
I dabbled with the AirPods Pro, hoping that its comfort would add some noise cancellation to the mix, but my expectations were greatly disappointed.
DOES NOT MAKE ME FORGET WEARING IT
In adopting noise-canceling, the AirPods Pro is canal (earplugs). There is little sound leakage and it is easy to concentrate on listening. But this was a failure.
Even though they are the same noise-canceling earphones, Bose's QuietComfort and QuietControl series are designed with ingenious ear tips so that you won't get too tired even after listening for a long time.
However, the AirPods Pro is an orthodox canal. It is a type of earplugs that can be inserted into your ears as tightly as earplugs. Even this alone makes you feel "in" your ears, but when you turn on the noise-canceling function, it gives you a sense of oppression, like wordless pressure, in exchange for silence.
And it's painful to keep wearing it.
A modest partner has turned into an assertive one
Whereas the unbranded AirPods were a quiet, supportive partner, the AirPods Pro has become a high-spec but assertive partner.
In addition, the frequency of putting on and taking off has increased excessively because the durability of the battery also became bad.
In exchange for noise cancellation, the AirPods Pro lost its greatest value: the ease with which they make you forget you're even wearing them.
It may seem like I'm exaggerating, but the difference between the two is tremendous.
Not bad at all for noise-canceling earphones
When viewed in the category of "wireless noise-canceling earphones," the AirPods are excellent earphones with some quality in both noise-canceling performance and sound quality.
But if you look at it from the point of view of whether the AirPods add more value to the product, it doesn't live up to your expectations at all.
The AirPods have lost their true value when they're compared to the already existing "wireless noise-canceling earphones" argument.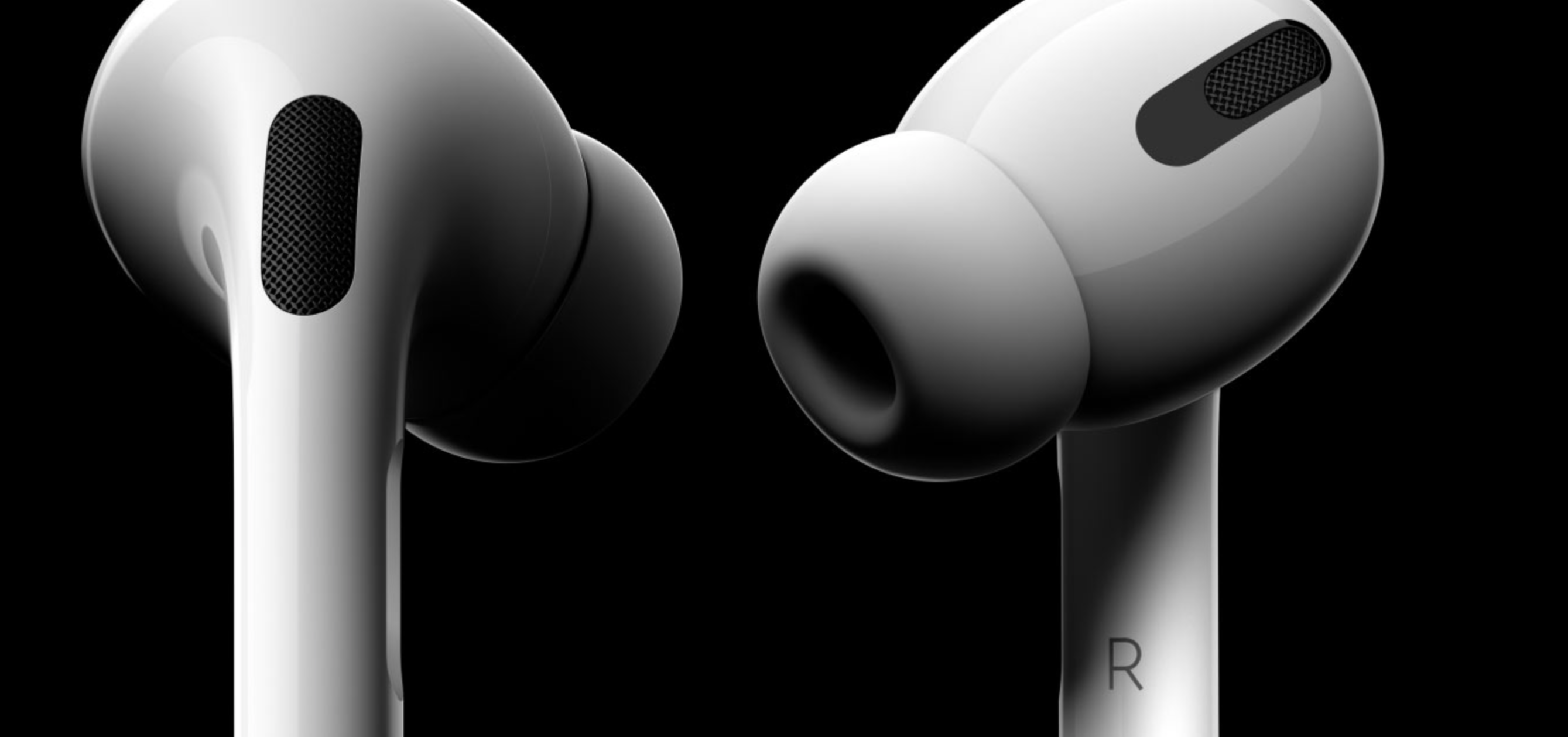 Both the AirPods and the AirPods Pro are great products.
However, I naturally wear it all the time, naturally listen to music as it is, and answer the phone as it is, naturally.
…The product that teaches that kind of "naturally" is definitely the unmarked AirPods, not the Pro.
Due to its characteristics, the Pro gets a little tired after wearing it for a long time. That's why it's a conventional "earphone" that you can wear only when you need it.
Unfortunately, there's nothing "new" about it that makes us excited.
This is how the AirPods should have evolved
Almost at the same time as the AirPods Pro, Huawei announced the FreeBuds3, a wireless earphone with noise-canceling capabilities.
In my opinion, the shape of these earbuds is the way the AirPods should have evolved.
The FreeBuds3 has noise-canceling features, but the shape is a generic earphone type (much like Apple's earphones), so it doesn't detract from the wearing experience at all.
In other words, a partner who MORE gently supports you without saying a word.
The AirPods Pro has better noise cancellation and sound insulation than the AirPods Pro because it's sealed. However, there are many excellent products from other companies such as Sony and Bose if you want to compare them.
Huawei's FreeBuds3 are earphones that have noise canceling capabilities without losing the convenience of the AirPods. (Although, of course, they're not AirPods, so they don't connect seamlessly with Apple products like the AirPods.)
I wish the AirPods had been named after the Pro in this way, too. I'm still looking forward to such new products.
Still, that's the great thing about AirPods Pro
Despite all the denials, there were some impressive parts of the AirPods Pro. That's the external sound capture function.
This feature uses the microphone of the noise-canceling earphones to capture ambient sound, and the naturalness of this was amazing.
With the external sound capture function of the previous earphones, I felt that I was playing the sound picked up by the microphone through the earphones. However, the AirPods Pro is so natural sounding that I couldn't even notice that the external sound capture feature was turned on.
In this respect, Apple's technology and coordination is really great, and I would like everyone to experience it.
But if you're using them with external sound, the unmarked AirPods are much more comfortable.
In the end, that's where the biggest contradiction lies, with the AirPods Pro.
Is wireless charger necessary?
AirPods have models with and without a wireless charger and models with the same earphones but different cases, and the price is somewhat different.
It's a question of which one to choose, but I personally don't think this wireless charger is necessary right now.
If the next iPhone adopts USB-C and more charging cables to carry, or if the iPhone itself has wireless charging capability, the wireless charging of AirPods will be very useful.
But at this point, it's not there and it's not a problem at all.
The best earphones for iPhone users in spring 2020 are unbranded (and cheapest) AirPods.
At the close
While the AirPods Pro continues the AirPods name, it's not a simple upward compatibility. It's not something you choose because it's expensive, cheap, or high spec.
When you use AirPods, it's nice and indispensable to your life. That's where I want the Pro. This is a no-brainer. But, however, the Pro has yet to become as much of an item to hold onto as the unmarked AirPods.
You are thinking of buying either one for the first time. Once you think you've been ripped off, choose the AirPods instead of the AirPods Pro. You'll experience a level of comfort that you've never experienced with earphones before.
Product Link List
読みやすさを重視したいので商品リンクは下記にだけまとめた。本記事で紹介したAirPodsの他、登場したイヤホンも一応載せておく。
reference